Reduce Waste. Promote Pickup.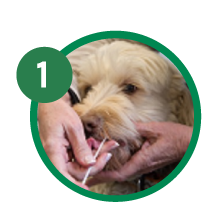 DNA Test
A gentle cheek swab collects the DNA sample.
Registration
Each dog's genetic profile is registered and uploaded securely to the DNA World Pet Registry database.
Collect
Use the PooPrints Waste Sample Collection Kit to collect a nickel-sized sample.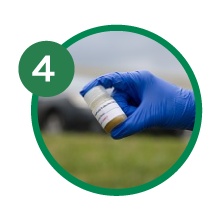 Return
Return the sample in its resealable container to BioPet Laboratories for PooPrints sample processing.
Match
The unique genetic profile is generated and matched to the offending canine.
Getting started with PooPrints is easier than ever! Our how-to videos give a comprehensive overview of what implementation steps should be taken, how to swab your dogs, and how to collect the waste samples. If you have additional questions about the benefits of PooPrints visit our FAQ page.
Our team of specialists is here! Send us a contact us form or call 866.883.7389 with any additional questions on how PooPrints is working for apartment complexes, HOA, COA, and government municipalities. Starting Doggy DNA looks different for every community, make sure to ask your representative how they can customize our program to fit your needs! 
It's important to streamline implementation process and ensure that you have a firm grasp on the capabilities of our system. We offer quick, 30-minute tutorials of the DNA World Pet Registry, PooPrints' patented database. The WPR is our state-of-the-art system that allows you to monitor success of PooPrints and run various reports for your property. This means you don't have to keep any records on your own – the system does it for you! Our dedicated training team offers numerous online training sessions a week so you can choose whichever time is most convenient for you.
Our team uses a webinar to review actions like registering a dog, obtaining your matches, running no-match reports, obtaining property reports and exporting data from the WPR into spreadsheets. You or your staff can also request a one-on-one training session to have the tutorial tailored specifically to your needs.
PooPrints Dog DNA Waste Solutions is a easy 5 step process that is assisting in dog and pet waste management in apartments, parks, and cities. It is as easy as gathering the DNA from the PooPrints swab kits. Then, registration into the World Pet Registration. Once registered dog poop is collected in the waste collections kits and returned to the PooPrints BioPet Laboratories analysis team. Lastly, the dog poop is matched with the offending canine. PooPrints provides full training to each apartment property.